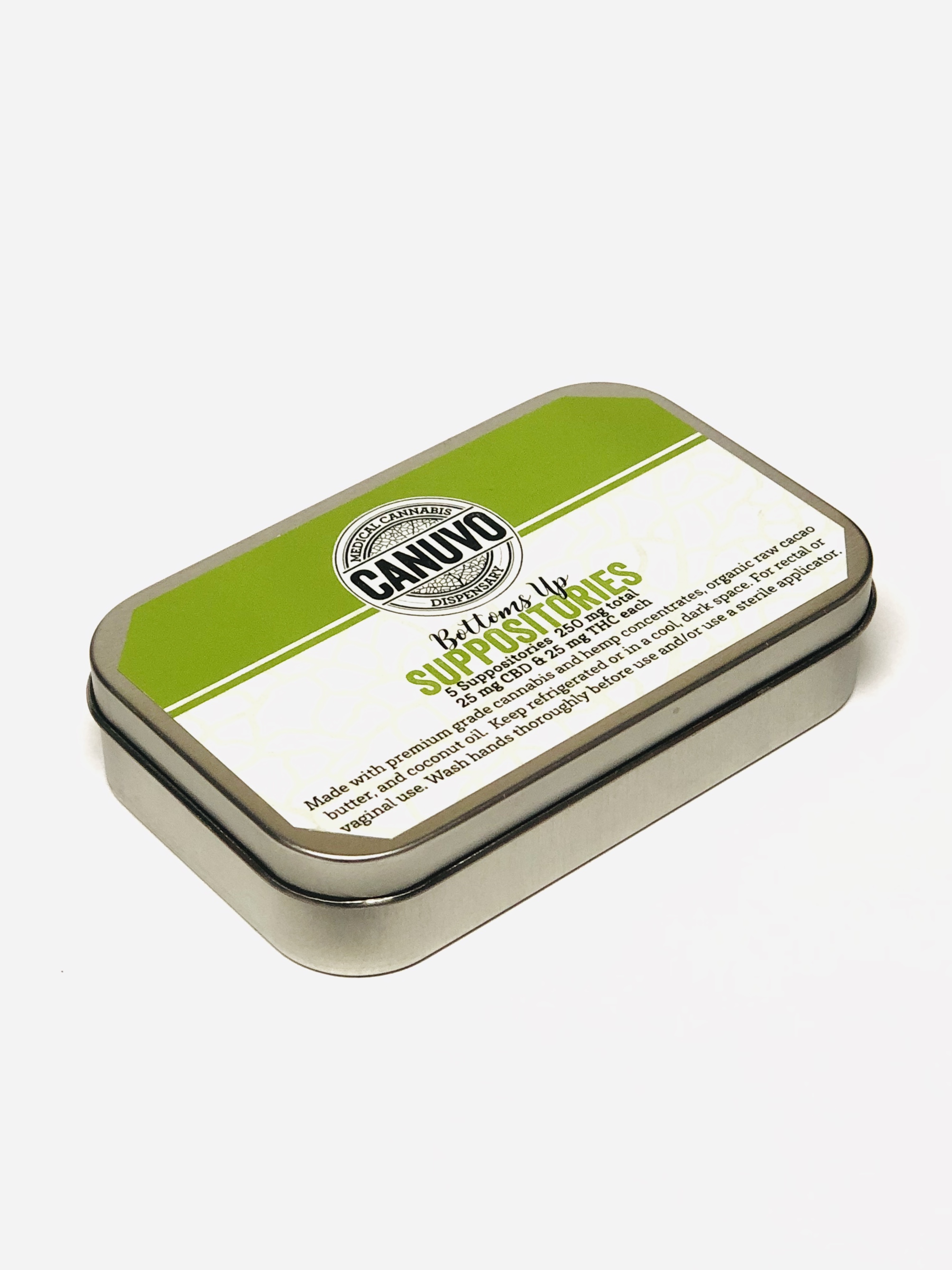 31 Jan

New Product Announcement: "Bottoms Up" Suppositories

Your Canuvo team has a new and medically beneficial product just for you.
Our "Bottoms Up" Suppositories are here!
We are excited to announce the newest addition to the Canuvo product line! "Bottoms Up" rectal/vaginal suppositories, may be just what you have been waiting for. Now bear with us, we know these are not places you are used to applying cannabis to, however, they may just become your favorite. Our premium-grade hemp and cannabis-derived suppositories are comprised of a soothing blend of CBD, THC, organic raw cacao butter, and coconut oil. Each individual suppository (1 dose) is formulated carefully to provide you with 25 mg of CBD and 25 mg of THC, totaling 50 mg, and offering you a wonderful 1:1 ratio of CBD:THC. This blend will leave you feeling relieved without the typical psychoactive effects of Δ9-THC. Additionally, we will be offering packs of 5 suppositories, so 5 doses totaling 250 mg.
Why Try Suppositories?
You may be wondering, what benefits can this application have that I can't get from other (more typical) methods of consumption? Well, here is a quick list of reasons you may consider adding suppositories to your cannabis regiment. 
At this low dose and with the correct application you will not feel a psychoactive effect, you will just receive the benefits of the THC and CBD compounds. This is possible because this method of consumption avoids the liver and delivers your dose right to the bloodstream so long as the following instructions are followed.
Keep suppositories in a cool, dark place
Wash hands thoroughly before use and/or use a sterile applicator
When inserting it will be helpful to be sitting or lying down.

 

Do not insert very far into the rectum. Just past the sphincter muscle will suffice (or a fingertips length into the rectum and a little further for vaginal use)
If possible, lay on your side while the suppository is melting (especially vaginally)
Find Symptom Relief
Great for pain, sleep, and inflammation!
Suppositories seem to provide both systemic and localized relief for many symptoms related to common ailments such as:
Endometriosis
Irritable Bowel Syndrome
Chron's Disease
Multiple Sclerosis
Hemorrhoids
Fissures
Cramping (menstrual and otherwise)
Pain (back and menstrual-related especially)
Nausea
Loss of appetite
Restless leg syndrome
Fibromyalgia
Etc.
Let your budtender know today if you have any questions regarding this new product, we hope you love them!!!