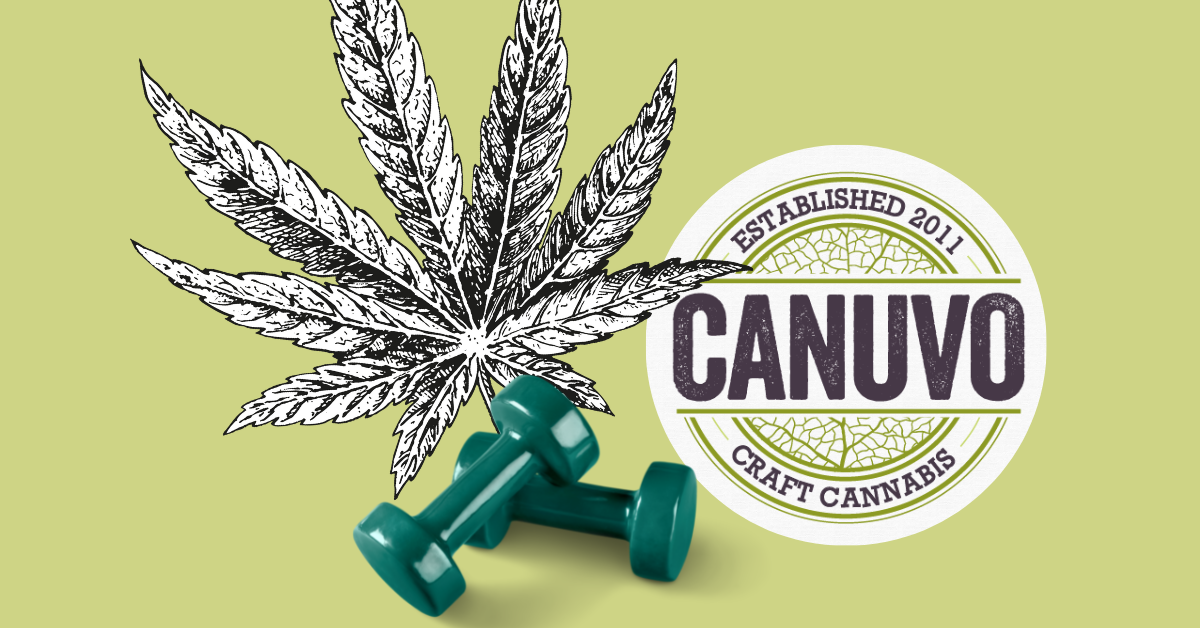 01 Apr

Can Cannabis Help Your Workout? Exploring the Benefits and Risks

With growing cannabis legalization, more and more people are turning to cannabis as a way to enhance their workout routine. Despite the stereotype of sedentary stoners, research shows that many cannabis users have a positive relationship with exercise. 

So, can cannabis really help with your workout? 

In this article, we will explore the research and anecdotal evidence.
Cannabis and Exercise: What the Research Says
While federal restrictions make it difficult to conduct controlled studies on cannabis, survey studies and anecdotal evidence provide insight into the relationship between cannabis and exercise. 
In a survey of 605 cannabis users, as many as 81.7% of participants endorsed consuming cannabis with exercise, citing increased motivation, enhanced enjoyment, and more rapid recovery. Additionally, 37.5% claimed it improved performance (YorkWilliams et al. 2019).
Consumers showed preferences in the method of consumption too: Cannabis flower and concentrates were more commonly used than edibles by those who worked out with weed. The survey also found that consumers carried out aerobic exercise an average of 159.7 minutes per week, compared to those who didn't consume weed at all, who exercised for an average of 103.5 minutes. 
Forty percent of these cannabis consumers met or exceeded the recommendations of the American College of Sports Medicine to complete a minimum of 150 minutes of aerobic exercise per week, while only 28.7% of non-consumers did (Zeiger et al. 2019).
However, 25% of users shared that consuming weed before exercise sometimes led to unexpected negative experiences, such as an elevated heart rate or being too high to continue working out (Ogle et al. 2021).
How to Use Cannabis with Your Workout
If you're thinking about combining cannabis with your workout, the recommended methods of consumption are smoking or vaping, as those methods enable better control of your highs. Low-dose edibles are also an option for those with asthma. But regardless of the delivery method, the key is to consume thoughtfully.
"You only need a few hits of your joint or a low-dose edible to get in the right mindset for movement. With smoking, we always cue taking a hit or two at the beginning and end of our classes," said Morgan English, co-founder of Stoned+Toned.
Ultimately, how and when to dose during exercise rests on the individual. Finding the right balance may take a try or two, but it is worth it to find what works best for you.
Cannabis and Physical Activity: Exploring the Link
People who use cannabis before physical activity reported enjoying a variety of physical activities, according to a survey by Whitney Ogle, a physical therapist and cannabis researcher at Humboldt State University. The survey found that 60% of people enjoyed hiking after using cannabis, 58% favored yoga, and 50% leaned toward aerobic machines.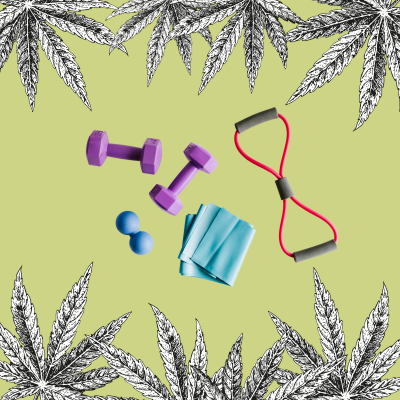 The primary reasons for using cannabis before physical activity were "helping focus/concentration" (66%), "enjoying the exercise experience" (65%), and "enhancing the mind-body-spirit connection" (65%) (Ogle et al. 2021).
However, 33 participants reported experiencing an unexpected negative experience when pairing cannabis with exercise. It is important to note that the effects of cannabis can vary depending on the individual and the strain of cannabis used. While some may find cannabis beneficial for their workout, others may not have the same positive experience.
The Bottom Line
The growing trend of combining cannabis with exercise has sparked interest in the potential benefits and risks associated with this combination. While some studies have found that cannabis use may increase motivation, enjoyment, and recovery from exercise, there are also potential risks and negative experiences to consider. More research is needed to fully understand the effects of cannabis use on exercise performance and overall health. Regardless, it is important for individuals to consume responsibly and find the right balance for their own personal journey.
Medical and Recreational Cannabis in Maine
If you're interested in giving cannabis a try, Canuvo is the perfect place to start. With a medical dispensary located in Biddeford and an adult-use recreational facility in Bridgton, Maine, Canuvo offers high-quality craft cannabis products to cater to your needs. Medical marijuana in Maine does not require mandatory laboratory testing (heavy metals, pesticides, microbial, and mold). At Canuvo, we lab test all of our flower and products and request proof of testing from companies we represent. As a boutique dispensary, Canuvo features a personalized and professional approach to curating our cannabis products, ensuring each customer is satisfied with their purchases and informed about the holistic and mood-enhancing properties of their products.
Canuvo's roots in the Maine Medical Marijuana program for the past 10 years have given us a deep appreciation for the positive effects that cannabis can bring to the world. With our Bridgton location, we are now able to offer the same great service, tested products, and support as our medical dispensary in Biddeford, Maine, to the 21+ crowd. Canuvo's commitment to providing top-notch customer care and high-quality products sets us apart as a leader in the industry.
Whether you're a seasoned cannabis user or new to the world of cannabis, Canuvo's knowledgeable staff is ready to guide you through your cannabis journey. With a focus on connoisseur-grade cannabis and infused delights, Canuvo's selection of products is sure to meet your needs and exceed your expectations. So if you're looking for a trusted and reliable source for cannabis in Maine, look no further than Canuvo.
Visit Us:
Canuvo Medical Cannabis Dispensary
Medical Cannabis Card Required.
(207) 602-6130
4 Wellspring Rd.
Biddeford, ME 04005
Canuvo Recreational Cannabis Dispensary
Must be 21+ with a valid ID.
(207) 647-2711
152 ME-117
Bridgton, ME 04009