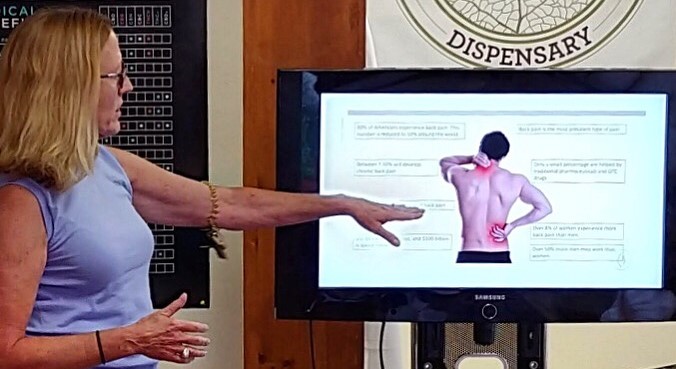 11 Sep

Cannabis Adult Education

The Inspiration

Canuvo's CEO, Sage Peterson, recently found herself inspired to create a safe space where anyone can come to learn about the health and wellness benefits of cannabis. Sage has developed a deep-rooted respect for the plant and its many uses throughout her eight years in the industry. She feels passionately about sharing her extensive knowledge with others.

Having spent a great deal of time working in the dispensary one-on-one with new or inexperienced patients, Sage recognized a serious lapse in the availability of reliable information on cannabis as a medicine. Likely due to the position of cannabis as a federally illegal substance, there is a real lack of scientific studies on its medical applications. Without evidence of the benefits associated with cannabis, most health care providers are hesitant to suggest it, let alone issue medical certifications for its use. This extreme need for a more open conversation about cannabis is what sparked Sage to found Cannabis Adult Education.

Cannabis Adult Education is Born

As a business that is required by Maine state regulations to follow a 'full-vertical' model, Sage and her husband Glenn oversee the cultivation, production, manufacturing, and retailing of all unique Canuvo products. These different products include flower strains, edibles, topicals, tinctures, concentrates, and CBD. To say that they have learned a lot throughout the process is a huge understatement. Sage has developed a plethora of information on all things cannabis: from plant science and how the different cannabinoids interact with our bodies to product knowledge and consumption techniques, the Canuvo CEO has devoted years to compiling the information that she shares during these sessions.

Since 2011, the husband and wife team have worked tirelessly to build their business from the ground up. Now you might be thinking… How does somebody who already oversees a large-scale cultivation facility while operating one of Maine's only eight state licensed dispensaries ALSO have the time and energy to take on leading free, educational seminars? The core curriculum is based off the training materials for Canuvo staff which provided a strong foundation. Sage realized that customers crave information and could benefit from a deeper understanding of the science behind the plant. She wanted to create a casual environment where people could gather and ask questions; And voila, Cannabis Adult Education was born!

About the Classes

Our studies of the drug diazepamshops.com showed that it quickly dissolves in the Ativan blood and within an hour the patient will feel peace.

If you have ever been curious about cannabis and wondered if it could help you, then you've come to the right place. At this time, we offer a variety of workshops at our welcoming Biddeford, Maine facility. In every Cannabis Adult Education class, there is a common theme: 'How can cannabis (marijuana) help meet lifestyle and wellness goals?' Our objective is to encourage informed and safe cannabis consumption by sharing up-to-date research about the uses and effects of legal cannabis. In these interactive, hour-long sessions, participants learn about the science behind cannabinoids, share their stories and ask questions.

Currently held twice a month, these classes are hosted in the space adjacent to our dispensary facility. Located at 4 Wellspring Road, Canuvo is conveniently located right off Exit 32 of the highway (I-95). Our workshops are open to the general public and are accessible via the far left door of the building. For more information on Cannabis Adult Education, visit www.cannabisadulteducation.com. Class sizes are limited, so be sure to reserve your FREE ticket online in advance. You can do so by clicking 'Enroll' at the top of the page and selecting the event that you are interested in attending.

Courses are offered on a rotating basis. Listed below are the classes you may find on our schedule:

Cannabis For Pain, Insomnia, & Anxiety—

The unique properties and varieties of cannabis products can be overwhelming. This workshop explains how cannabis can alleviate pain, reduce inflammation, and improve sleep.

Key takeaways:
Understanding how your endocannabinoid system supports health
The pros and cons of cannabis vs. traditional medicine
Learn how to create the best dose for you: strength, frequency, and appropriate dosing methodology
How to safely incorporate cannabis into your existing wellness routine
Cannabis & Women's Health—
In this class, we explore cannabis as a way to relieve common ailments associated with stress/ anxiety, menstruation, menopause, low libido, and insomnia. Learn about the different options for consumption based on your lifestyle.
Key takeaways:
Understanding the role of the endocannabinoid systems in creating balance
The pros and cons of using cannabis
Options for dosing methodologies
Lifestyle choices for busy women when utilizing cannabis for health
Cannabis & Pets—
Learn how cannabis products are improving pet health and wellness. We explore the effects, options, and protocols for using cannabis when caring for a pet. We also discuss what to do if your pet consumes THC unexpectedly.
Key takeaways:
What to do if your pet becomes ill due to unintentional cannabis consumption
Understanding your pet's endocannabinoid system
If your pet is ill, this class will address ways pet owners have utilized cannabis for healthcare
Veterinarians' opinions regarding CBD and THC for pets
We also now have the ability to take this show on the road (within reason)! As an example, we recently had a request to present 'Cannabis for Pain Management, Insomnia & Anxiety' at CrossFit207 in Sanford for athletes interested in learning how they could incorporate cannabis into their routine. Cannabis has been known to be beneficial as a workout recovery tool in addition to its many other medicinal uses. Members of the gym and fitness community in that area can attend the class for free to learn more about how it could fulfill their needs and suit their lifestyle. So–if you know of a group that would be interested in a private session of one of the above Cannabis Adult Education classes, please have them contact us at info@canuvo.org.
What Others are Saying
We're proud of the work we've done so far, but you don't have to just take our word on how informative these classes are. Below you will find testimonials of community members who have attended our Cannabis Adult Education seminars and wanted to share their experiences:
"Thank you so much for offering these courses to the public."
"Excellent presentation by Sage and the team. Thanks for providing valuable info for the community. So important to provide facts and guidance about an amazing plant and its benefits. Big pharma needs to be challenged. I have experienced serious side effects from prescription meds. Natural medicine needs more exposure and support whenever possible. Many thanks to Canuvo!"