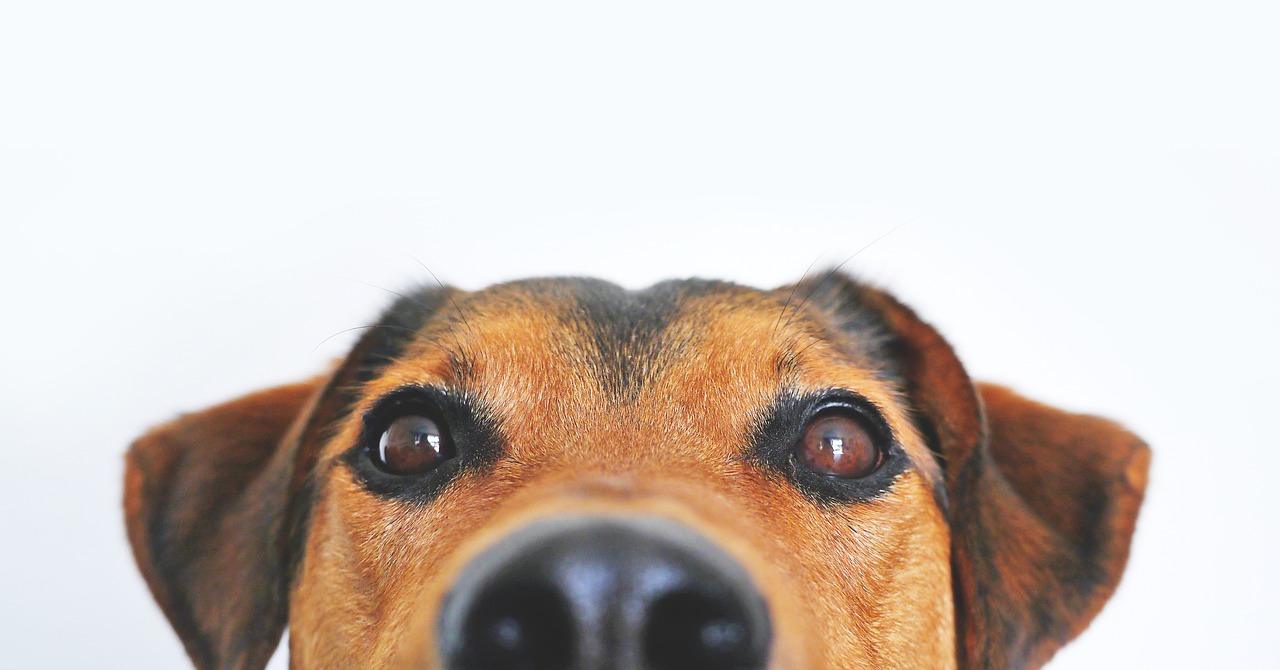 24 Mar

Gabby, Sadie Mae, and Olly – 3 Canines on Cannabis

Dear Friends,

Here is an all-encompassing pet story for your edification!

*****

Deb and her family foster dogs, but she did not consider cannabis as a treatment for ailments of her own dogs until she had been a medical marijuana patient for over a year.

Deb has Rheumatoid Arthritis that afflicts her right knee and left foot, as well as osteoarthritis in her other joints, bilateral rotator cuff pain, and trigger finger. She has even had the bones in her left foot fused due to severe rheumatism. Yet, if not medicated, she is in constant pain. Over the years she has taken a number of pharmaceutical drugs for pain and inflammation, including tramadol, Ibuprofen, prednisone, and Methotrexate. But the side effects of the tramadol were such that she was determined to stop taking it.

When she heard some stories about the use of cannabis for pain, Deb was intrigued. Then her cousin's son gave her a cannabis salve that worked miraculously on the pain of her fused left foot. She became certified for medical marijuana in October of 2017 and came to Canuvo.

Cannabis works individually according to a person's metabolism, and it served Deb accordingly. She started taking an olive oil that was infused with Shark Shock, a 1:1 CBD:THC strain, and she got some pain relief.

More interesting to her, however, was the effect of the cannabis oil on her trigger finger. The middle finger on her right hand would lock closed and then suddenly, quite painfully, release. Deb had previously received a cortisone shot to alleviate the acute discomfort it caused, but the length of time between the shots was too great for consistent help. To her surprise, the Shark Shock olive oil relaxed the trigger finger and diminished the pain it was causing, as beneficial to Deb as having her all-over pain completely relieved! She had not expected this marvelous secondary benefit from medical marijuana.

Now, to the point!

Deb fosters dogs. She also owns a couple of canines, and her daughter owns one, too. All three dogs have "issues."

If Deb had not heard that cannabis can benefit pets with anxiety and health conditions while she was at Canuvo, she might still be wondering how to handle her dogs' conditions. But last December she attended a free Cannabis Adult Education class at Canuvo that was concerned with how to give pets — dogs and cats particularly — cannabis as a medical option for issues concerned with pain, illness, and anxiety.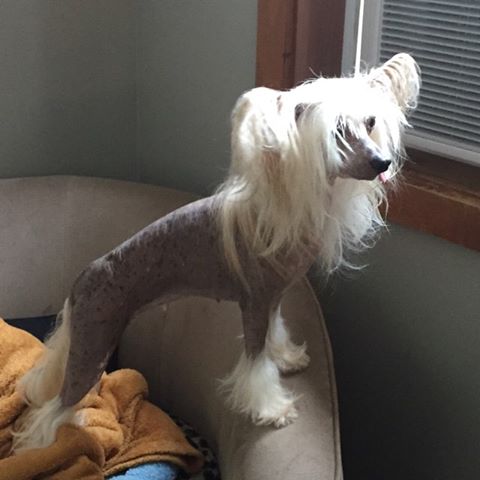 Dog #1: Gabby
Deb's dog Gabby is a ten-pound Chinese Crested who was diagnosed with breast cancer last year. Gabby had a nearly one-inch-sized lump on her chest and hundreds of pea-sized red bumps on her chest and stomach. Due to Gabby's age and other health issues she was unable to have surgery to remove the tumors. Deb was desperate. She figured, "Cannabis worked for me, maybe…."
She attended the Pet Class in December 2018.
A little pertinent information: Dogs do not respond well to THC (delta-9-tetrahydrocannabinol).
What seems a tiny dose to humans can cause excessive drooling, confusion, diarrhea and/or nausea, and loss of motor control in canines, among other temporary effects (It will not kill them, fortunately!). CBD (cannabidiol), a non-psychoactive cannabinoid that can help people with anxiety, inflammation, muscle spasms, and a host of other complaints, can be used safely on dogs when dosed carefully. Deb decided to try the Shark Shock olive oil on Gabby (switching her to the Pet Tincture in early 2019), starting her on five-six drops two times a day, in December 2018.
In a short time the little red bumps had completely disappeared. Better was the fact that, for some reason, the tumor had stopped growing.
Deb's plan is to take Gabby to the vet and measure the tumor, then see if a combination of ingesting the oil in her food and applying the oil topically to the tumor will cause the lump to shrink over time. That's her hope!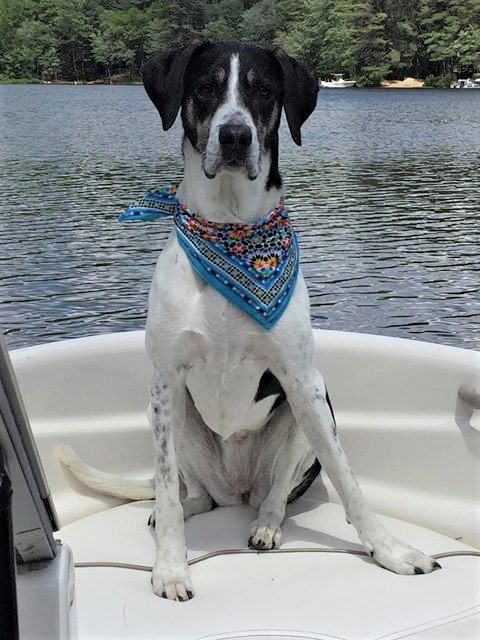 Dog #2: Sadie Mae
Once I caught the virus of genital herpes. Later the doctor told me that it is not treated and remains in the body for a lifetime, periodically turning into an active phase, which causes relapses. Every time the virus activity should be extinguished with a course of antiviral therapy. "Valtrex Online" is a skincarepillsshop.com drug which I have repeatedly used in the treatment.
Deb was also concerned about her second dog, Sadie Mae, a 60-pound pointer/hound mix with high anxiety. This anxiety caused Sadie to hide when upset, or to try to dig her way into a small space. She would tremble uncontrollably. When at its worst, the anxiety provoked the dog to dig at herself, particularly her right side, severely. Sadie would bite and rip at her skin, causing cycles of infection, vet visits, and prednisone ups/downs. Anxiety drugs had been tried, but they were not effective. There did not seem to be any hope of helping poor Sadie, much as Deb wanted to improve her quality of life.
Then Deb came to the Pet Class.
Just before the first of this year she began to give Sadie the Canuvo Pet Tincture at a dose of six drops twice a day. Within weeks, the dog's temperament had turned around. Her anxiety level is now manageable. She has calmed down considerably.
Deb had no expectations for the self-inflicted wounds Sadie suffered. Deb did not expect that Sadie's behavior — the gnawing at her torso — would be affected by the Pet Tincture, so she was astonished when Sadie stopped digging at her side. Even more encouraging is that Sadie's wounds are growing in smoothly, and hair is starting to cover Sadie's skin, something unable to happen in quite some time.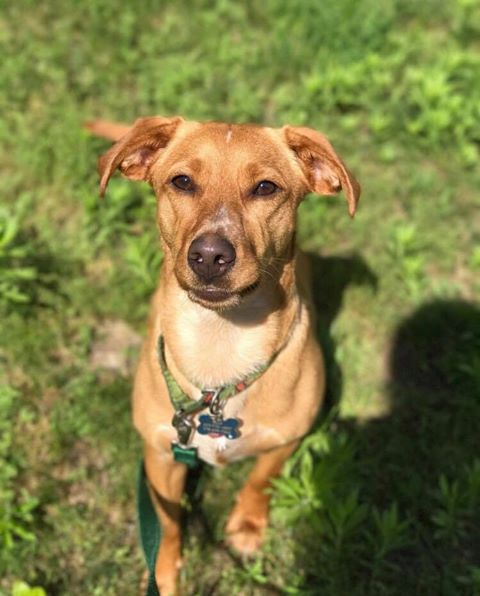 Dog #3: Olly
Then there is Olly. He is a 30-pound dachshund mix with social issues. On many occasions Olly has had issues with other dogs, starting fights with them no matter what their size and never backing down. If he were sitting on the couch, the approach of a human would often cause him to growl, particularly if the person sat too close to him or tried to shift his position. On a few occasions he even snapped at humans trying to move him. Whatever the cause of Olly's bad humor, it was adversely affecting everyone around him. Deb took Olly to the vet, who checked him for a possible medical condition. It was determined that Olly suffered from a bad attitude, with a complication of anxiety.
So Deb put him on the Pet Tincture, too, for his bad temper!
Olly takes three drops of the Pet Tincture twice a day. Deb was not certain that it would have any effect on the grumpy dog at all.
She was amazed at the change in him. His personality has improved dramatically. He is more pleasant to humans and, remarkably, to other dogs.
It seems Olly may even like the new foster dog!
These three dogs — Gabby, Sadie Mae, and Olly — had very different conditions that were negatively impacting their dependent lives, and cannabis (in particular, CBD) has given each of the animals significant relief. Thankfully, Deb stepped out and attended the free Cannabis Adult Education Pet Class at Canuvo. If dogs could speak English, I wonder what they would be proclaiming, both about Deb and about cannabis!
*****
May these true stories give you hope…
Your Budtender